If you're like me you're interested in knowing the outdoor temperature.  If you're also like me, the prospect of spending $$$ for a computer weather station doesn't sound too appealing.  Once again, the wonderful $30 RTL-SDR dongle to the rescue!  In today's blog post I will show you how you can use the RTL-SDR to intercept the wireless signals sent from your neighbors outdoor weather stations, and how to use these to know the weather around your home.
First, you will need an RTL-SDR dongle, connected to an antenna.  I am presently using my TV antenna to feed my RTL-SDR dongle, which is connected to my VMWare server and assigned to a virtual machine.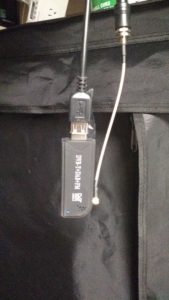 You will need the rtl_433 source code which you can download from Github: https://github.com/merbanan/rtl_433  The compile requirements are identical to the rtl-sdr linux suite.  Installation instruction scan be found in the readme.md file in the package.
Once compiled launch the rtl_433 application as such:
rtl_433 -G -p 65 -l 0 -F csv >> /var/www/wx/wx.txt &
In this example I am running the rtl_433 code detached, and having it output the detected frames into a CSV file located in /var/www/wx called wx.txt  — this file can grow quite large so be sure to set up this location for log file rotation.
Once running in no time you should start to see packets quickly cross your computer screen from your neighbors weather stations.  Here's about 30 seconds worth of traffic near my home:
2016-12-12 23:19:13,Acurite tower sensor,1613,B,1,-4.900,,,,76,,,,,,,,,,,,,,,,,,,,,,,,,,,,,,,,,,,,,,,,,,,,,,,,,,,,,,,,,,,132,,,,,,,,,,,,,,,,,,,
wind speed: 5 kph, temp: 21.9° F, humidity: 83% RH
2016-12-12 23:19:17 Acurite 5n1 sensor 0x02AA Ch A, Msg 38, Wind 5 kmph / 3.1 mph, -5.6 C 21.9 F 83 % RH
2016-12-12 23:19:17 Acurite 5n1 sensor 0x02AA Ch A, Msg 38, Wind 5 kmph / 3.1 mph, -5.6 C 21.9 F 83 % RH
2016-12-12 23:19:17 Acurite 5n1 sensor 0x02AA Ch A, Msg 38, Wind 5 kmph / 3.1 mph, -5.6 C 21.9 F 83 % RH
2016-12-12 23:19:18,RGR968,222,0,LOW,,,,,,,0.000,,,,,,,,,,,,,,,,,,,,,,,,,,,,,,,,,,,,,,,,,,,,,,,,,,,,,,,,,,,,,,,,,,,,,,,,,,,,
2016-12-12 23:19:19,RGR968,222,0,LOW,,,,,,,0.000,,,,,,,,,,,,,,,,,,,,,,,,,,,,,,,,,,,,,,,,,,,,,,,,,,,,,,,,,,,,,,,,,,,,,,,,,,,,
2016-12-12 23:19:21,Acurite tower sensor,6163,A,1,-74.800,,,,0,,,,,,,,,,,,,,,,,,,,,,,,,,,,,,,,,,,,,,,,,,,,,,,,,,,,,,,,,,,201,,,,,,,,,,,,,,,,,,,
2016-12-12 23:19:30,Acurite tower sensor,1613,B,1,-4.900,,,,76,,,,,,,,,,,,,,,,,,,,,,,,,,,,,,,,,,,,,,,,,,,,,,,,,,,,,,,,,,,132,,,,,,,,,,,,,,,,,,,
2016-12-12 23:19:30,Acurite tower sensor,1613,B,1,-4.900,,,,76,,,,,,,,,,,,,,,,,,,,,,,,,,,,,,,,,,,,,,,,,,,,,,,,,,,,,,,,,,,132,,,,,,,,,,,,,,,,,,,
2016-12-12 23:19:30,Acurite tower sensor,1613,B,1,-4.900,,,,76,,,,,,,,,,,,,,,,,,,,,,,,,,,,,,,,,,,,,,,,,,,,,,,,,,,,,,,,,,,132,,,,,,,,,,,,,,,,,,,
AcuRite Rain Gauge Total Rain is 48.0mm
Raw Message: 20 30 60 00 00
AcuRite Rain Gauge Total Rain is 48.0mm
Raw Message: 20 30 60 00 00
wind speed: 4 kph, wind direction: 270.0°, rain gauge: 0.00 in.
2016-12-12 23:19:35 Acurite 5n1 sensor 0x02AA Ch A, Msg 31, Wind 4 kmph / 2.5 mph 270.0° W (3), rain gauge 0.00 in.
2016-12-12 23:19:35 Acurite 5n1 sensor 0x02AA Ch A, Msg 31, Wind 4 kmph / 2.5 mph 270.0° W (3), rain gauge 0.00 in.
2016-12-12 23:19:35 Acurite 5n1 sensor 0x02AA Ch A, Msg 31, Wind 4 kmph / 2.5 mph 270.0° W (3), rain gauge 0.00 in.
2016-12-12 23:19:46,Acurite tower sensor,1613,B,1,-4.900,,,,76,,,,,,,,,,,,,,,,,,,,,,,,,,,,,,,,,,,,,,,,,,,,,,,,,,,,,,,,,,,132,,,,,,,,,,,,,,,,,,,