Updated May 23, 2018
Anyone operating a DMR GD77 radio in Cedar Rapids or Iowa City may find the following codeplug handy.
This codeplug is based on the very hard work of the Iowa DMR Group.  I have attempted to duplicate the MD380 codeplug for the GD-77
Please Note: I have not added the talkgroups to the RX Group List so you will need to enable Monitor mode on your radio each time you power it on to properly hear DMR calls.  In Monitor mode (sometimes called promiscuous mode) you will hear any calls for any talkgroup on the timeslot you are connected to.  This is useful as you can easily hear if the timeslot is in use before interrupting a QSO.  The monitor function can be activated by a long press of SK1 (the key directly below the PTT) and must be turned on each time the radio is powered on (it is not stored in the radio)
This codeplug Requires Radioddity v2.0.5 programming software and radio firmware v3.0.6!!  Tools can be downloaded HERE from my site however if you are untrusting you should download directly from Radioddity's facebook.
Remember to update your Radio Name to your callsign (purely cosmetic) and your Radio ID to your DMR-MARC assigned ID under General Settings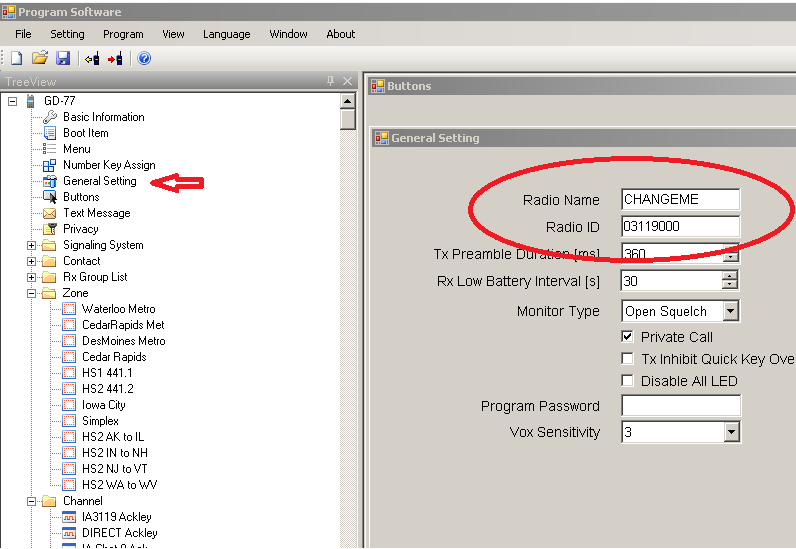 v0.5 – Zones:
Waterloo Metro
Cedar Rapids Metro
Des Moines Metro
Cedar Rapids W0GQ
HS1 441.1
HS2 441.2
Iowa City K0GH
DMR Simplex
HS2 AK to IL
HS2 IN to NH
HS2 NJ to VT
HS2 WA to WV